Resources Home
Hard truth: nonprofits are losing donors.
In fact, according to data from the Fundraising Effectiveness Project, donor acquisition, dollars, and donor retention rates fell YoY in 2022.
But to understand why donor counts are falling, we first have to understand why they went up so rapidly in the last few years.
We've dubbed this the COVID Bump.
What is the COVID Bump?
The "COVID bump" refers to the surge in donations that many nonprofit organizations experienced in response to COVID during April 2020 and December 2021.
The surge was largely driven by a combination of factors, including increased need for services and resources, greater public awareness of these needs, and a desire among many people to do something to help.
During the early days of the pandemic, people also greatly reduced their discretionary spending and spent much more time online.
As a result of this bump, many organizations are now seeing what appears to be a large decrease in revenue but is actually just a regression back to "normal" rates.
This loss in revenue can be attributed to several things:
People returning to "normal life" after the pandemic
The stock market retreat in late 2021
Record inflation and economic uncertainty
Here's an example of what this looks like for one organization:
And we've seen this across various organizations types with different levels of annual revenue:
As you can see, while 2022 revenue for these organizations is far below 2021, it's actually in line with historical results.
But your objective is likely not to simply maintain your current level of giving but instead inspire more people to give more generously, year over year.
So how can you reverse this trend?
Here are three key opportunities that you can leverage to inspire greater giving.
1 – Recognize the power of acquiring a donor's email address
One way to increase retention is to acquire an email for a donor who only gives offline.
Reviewing the data of hundreds of nonprofit organizations reveals that having an active email on file for a donor increases annual revenue and retention rates—even if they don't give online!
Before we break down how this works, let's first define the 4 cohorts of channel communication.
Offline only – donors who only make gifts offline (e.g. direct mail) and do not have an active email on file
Offline w/ valid email – donors who only make gifts offline (e.g. direct mail) but have an active email on file
Online only – donors who give online and have a home address, but do not give offline
Multichannel – donors who give both online and offline in the same fiscal year
By breaking down the difference in annual revenue and retention rates across each giving cohort, the opportunities to keep more donors and increase revenue begin to reveal themselves.
Let's take a closer look …Below you'll see that just by adding an email for an "offline-only" donor, the annual value of that donor increased by 73%.
But that's not all … the retention rate for that same group also increases by 73%.
The takeaway?
Your offline-only donors become much more valuable and attrite less when you acquire their email.
This is well worth your time because having your offline donors' emails can produce a significant jump in annual revenue: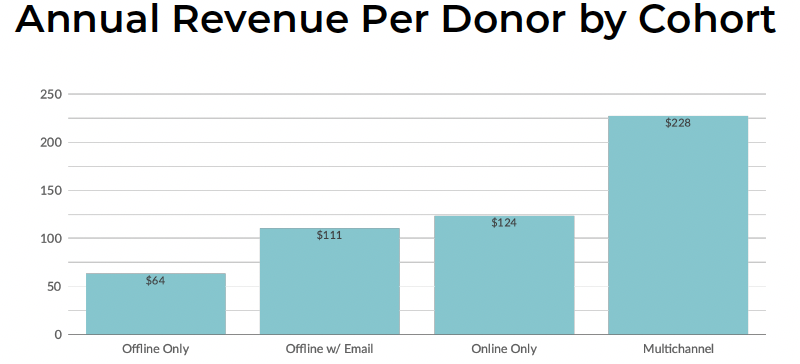 And it can also lead to a huge jump in retention rates:
But it's important to note that once you get an offline-only donor's email address you should NOT stop sending them direct mail. Why?
Because over time, the most consistently valuable donor cohort is multichannel (donors who give both online and offline in the same fiscal year)
Not only do they give more frequently, but they also give more generously.
2 – Uncover hidden monthly donors
According to Classy's "State of Modern Philanthropy," recurring donors have the highest lifetime financial return — 42% above fundraising events and 440% above one-time donors!
And Network for Good reports that the average recurring donor will give 42% more over a year than those who give one-time gifts.
Lastly, according to Bloomerang, recurring donors are 6x more likely to consider you in their estate planning.
So how do you get more donors to give monthly?
1. Test your donation forms
A few things you might try testing to increase recurring giving:
1) Include a button on your mobile donation form to select monthly giving. In one experiment this led to a 144% increase in donations.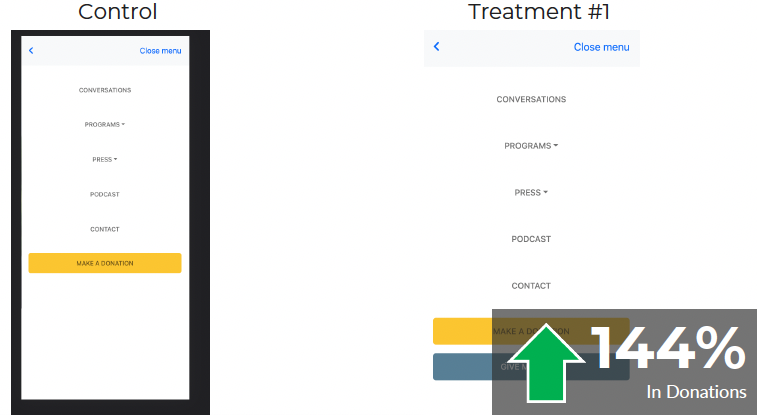 2) Change the order of decisions someone needs to make on your donation form. In one experiment, creating a tabbed donation form created a 15% increase in donations.
3) Add social proof to show the impact being achieved by other recurring givers and align the donor's values to encourage them to join in. By doing so, one organization saw a 12% increase in recurring gifts.
2. Find your "streak" donors
Another place to find monthly donors is by uncovering your "streak" donors.
A streak donor is a supporter of a nonprofit who manually gives monthly donations 3 or more times for the same amount.
And while this segment of donors likely isn't very big, their potential impact is huge!
In fact, streak donors give 69% more than traditional recurring donors.
And the average gift of a streak donor is 89% more than that of a recurring donor.
This makes a strong case for increasing engagement with your streak donors. Especially when you consider that while streak donors give double the average gift as recurring donors, they are also 3X more likely to lapse.
So it benefits you to first find out who your streak donors are and then ask them to give monthly.
3 – Focus on 2nd-year donors (because no one else is)
We're often so excited about new donors that we unintentionally neglect our second-year donors.
But I'm here to remind you that those second-year donors are not yet loyal to your cause — so stop neglecting them!
Second-year donors are the gateway to higher revenue per donor … but it's up to you to get them there.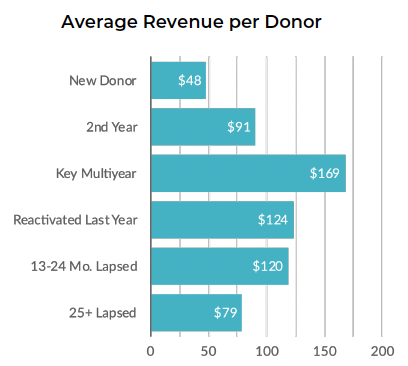 Key multi-year donors (those who give in 3 consecutive years) account for a lot of revenue and appear to have the lowest attrition rates.
But it stands to reason that your donors are unlikely to give in that third year if you neglect them in their second.
Wrapping Up
In short, retention is a key focus for many organizations.
And if you've read this far, you may be needing to work on retaining more donors as well, possibly due to the "COVID bump".
However, retention is not just something that just happens — it's something you can affect! And I hope these three strategies have given you a starting point to help your organization keep more donors.